You are now leaving the BD Biosciences website. The site you are about to visit is operated by a third party. The link to this site neither makes nor implies any representation or warranty for any products or services offered on a third-party site and is intended only to enable convenient access to the third-party site and for no other purpose. Do you want to continue?
Old Browser
For the best web browsing experience, please use Chrome, Safari or Firefox, minimum versions 77.0.3865, 12.1.2 and 68, respectively.
Request a Quote for BD FACSymphony™ A1 Cell Analyzer
Please fill in the following information and we will get in touch with you regarding your query.
Successfully submitted.
Overview
The BD FACSymphony™ A1 Cell Analyzer:
Offers premium high-end BD FACSymphony™ instrument technology scaled to fit on your benchtop
Provides flexibility to meet a broad spectrum of research needs from small particle research to 16-color immunophenotyping
Utilizes industry standard BD FACSDiva™ Software for streamlined workflow from system setup to data acquisition and analysis
Contact your local representative to discuss which BD flow cytometer fits your needs.

Learn more from the BD FACSymphony™ A1 Cell Analyzer brochure.
The BD FACSymphony™ A1 Cell Analyzer enables sensitive resolution up to 16 fluorescent markers simultaneously
The BD FACSymphony™ A1 Cell Analyzer
Applies premium BD FACSymphony™ instrument technology to reduce background noise and increase detection sensitivity
Features low-noise electronics, high-powered lasers and tight beam spot to support immunophenotyping up to 16 colors
Enables independent analysis of large and small particles on a single instrument. The optional small particle detector enables detection of small particles (SP SSC) such as extracellular vesicles, viral particle and more.
Is compatible with the broad portfolio of catalog and custom BD Horizon Brilliant™ Reagents and BD FACSDiva™ Software to streamline your flow cytometry workflow
Permits easy placement on a standard lab bench with its compact format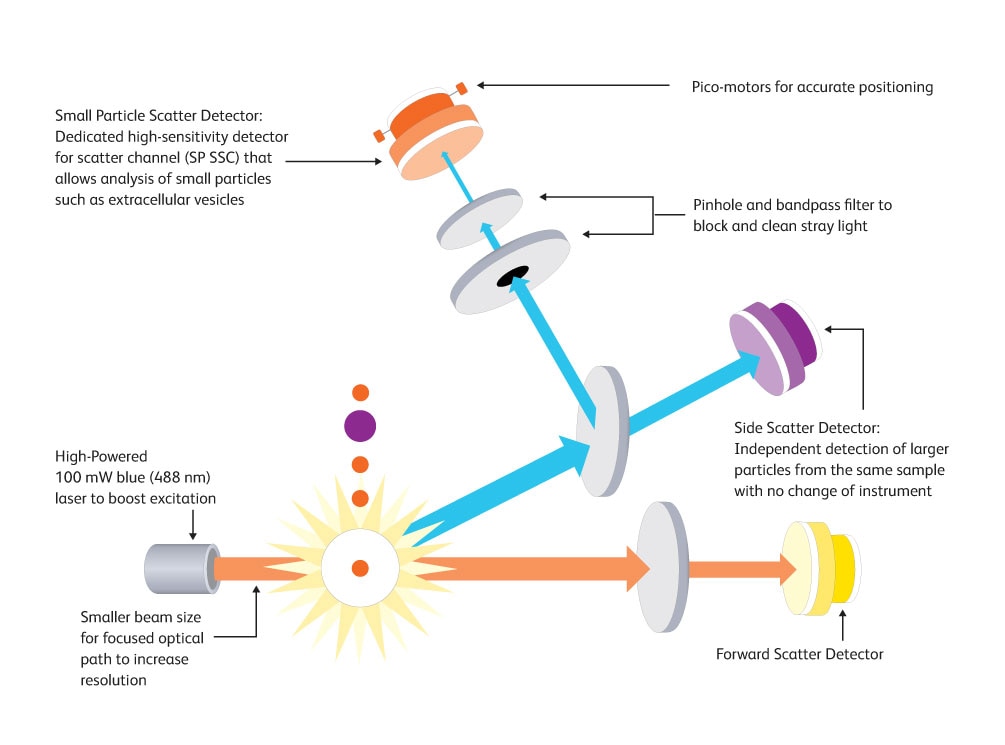 The BD FACSymphony™ A1 Cell Analyzer enables detection of small particles as small as 90-nm polystyrene beads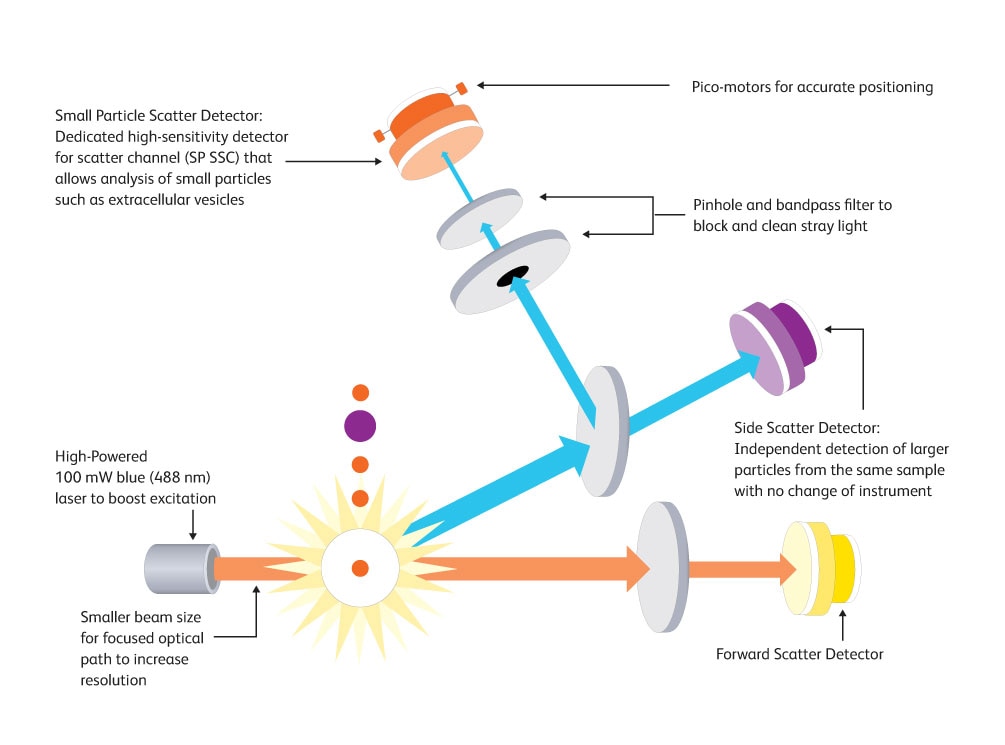 The BD FACSymphony™ A1 Cell Analyzer provides an optional, dedicated detector designed to resolve scatter of small particles such as extracellular vesicles, viral particle, exosomes, etc.

The system design features:
High-powered 100-mW blue (488 nm) laser to enhance excitation
Smaller beam size for focused optical path to increase resolution
Pinhole and bandpass filter to block and clean stray light
Dedicated high-sensitivity detector for scatter channel (SP SSC)
Independent detection of large (SSC) and small (SP SSC) particles in a single instrument, without change of instrument setup


The BD® High Throughput Sampler (HTS) and BD FACSFlow™ Supply System (FFSS) options are available for increased efficiency
The HTS option:
Automates and accelerates sample acquisition
Compatible with 96- and 384-well plates
Provides <0.5% sample carryover in high-throughput mode
The FFSS option:

Increases capacity and ease of use while maintaining a stable fluidics pressure
Reduces daily maintenance by incorporating a 20-L BD FACSFlow™ Cubitainer
The BD FACSymphony™ A1 Cell Analyzer and FlowJo™ v10 Software enable seamless data analysis
Take your analysis to the next level with new features in FlowJo™ v10 Software including improved BD FACSDiva™ Software support, platform overlays, spectral compensation and more.
Keep up to date on the latest plugins at FlowJo Exchange.

BD provides complete solution for small particle detection, from experiment setup to data analysis
Seamless small particle detection workflow

The BD FACSymphony™ A1 Cell Analyzer for immunophenotypic and functional characterization of circulating cytotoxic T lymphocytes and natural killer cells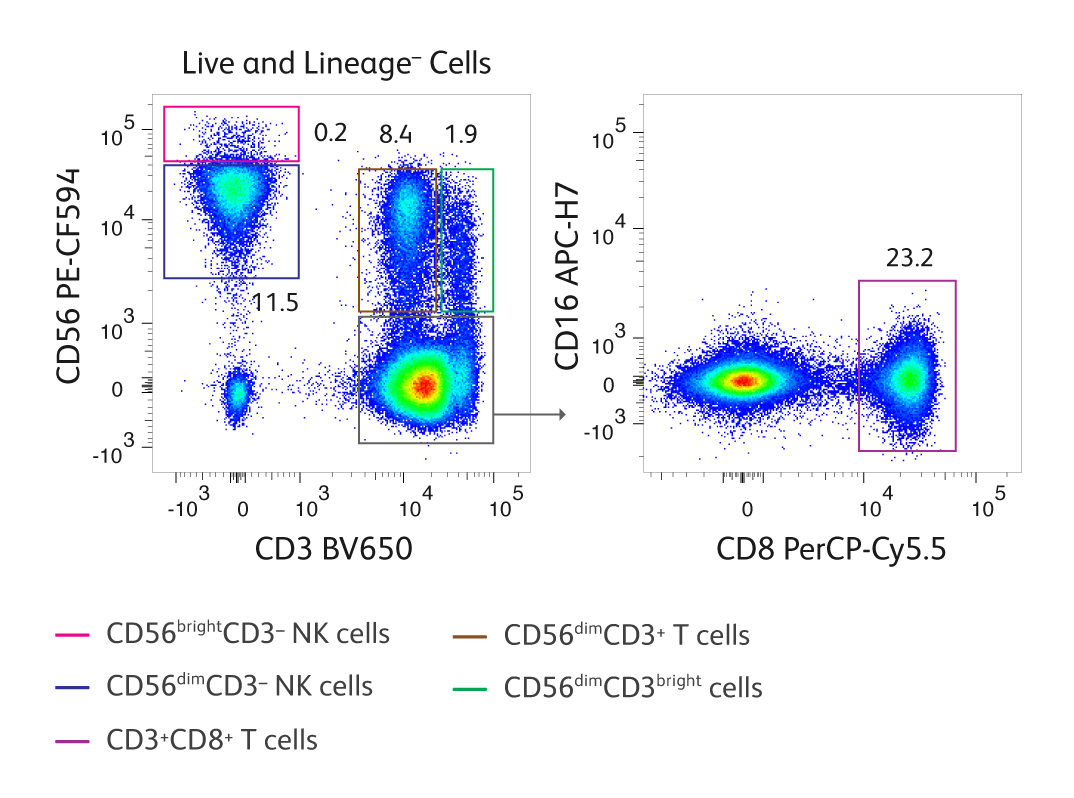 Characterization of NIST polysterne beads using small particle (SP SSC) detector

Report a Site Issue
---
This form is intended to help us improve our website experience. For other support, please visit our Contact Us page.
Form Submitted Successfully